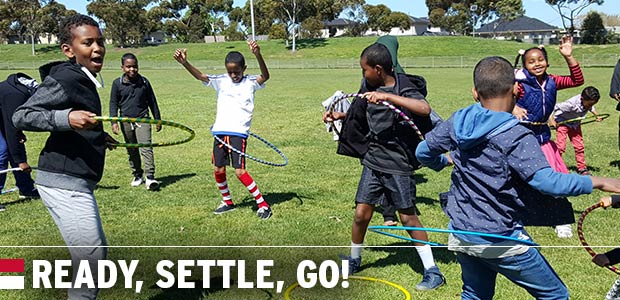 Since 2007, the Western Bulldogs Community Foundation has been delivering settlement services through the Ready SETTLE Go Program to over 18,000 newly arrived migrants and refugees residing in the west. Currently funded by the Department of Social Service, the program supports approximately 2,000 new Australians per year in accessing mainstream services through utilising the unifying power of recreational activities and sports as the conduit to introduce Australian culture and values whilst promoting personal wellbeing and social connectedness.

The Ready SETTLE Go program offers a range of community focused health education, leadership, youth and employability programs in the light of meaningful partnerships and referral pathways with organisations and services in the west.

Ready Settle Go is delivered throughout 35 different venues across the western Melbourne SSD and Melton-Wyndham SSDs, in particular the local government authorities of Wyndham, Hobsons Bay, Melton, Maribyrnong and Brimbank.
Focus client groups are permanent residents who have arrived in the last five years as:
humanitarian entrants
family stream migrants with low English proficiency
If you would like further information about Western Bulldogs Community Foundation and our programs, please click here to find out how to get in touch.
Clients will develop transferable life skills acquired through training in leadership and community development.
They will develop a strong connectedness to the Australian Culture not only by learning about it but by participating in it and potentially contributing to it by connecting to recreational sports. There settlement journey is facilitated by understanding and using the English language and jargon of the Australian sports focused cultural conversations.
They are given the opportunities to belong to, participate in, and contribute to a community outside a class setting.
Services will result in clients' increased:
- Knowledge of and ability to navigate access mainstream support services.
- Personal capacity and independence to solve problems as they arise
- Ability to provide information about accessing services to other community members
- Skills to assist them to seek employment and support services
- Independence and self-reliance to advocate for their needs to mainstream organisations.
- Social connections
- Independence of individual clients and their decreased reliance on casework services.
- Improved physical and mental health and wellbeing
Through advocacy and networking, there will be an increase in:
- Positive relationships with other settlement and mainstream providers developed and maintained.
- Working in partnership will minimise duplication in service provision.
- Greater collaboration between service providers and mainstream services to develop complementary activities and services to enhance the settlement outcomes of clients
Through leadership recognition and ongoing volunteering opportunities, regular support, guidance and mentoring as well as provision of culturally appropriate and accessible resources, clients will increase their skills, confidence and ability to actively engage in their community.
And through the health and sports youth focused recreational activities, clients' will result in greater self-reliance as evidenced by increased confidence to foster friendships between people which help reduce social isolation, knowledge of the importance of maintaining a healthy lifestyle and increased confidence to access settlement services and mainstream services. The expected outcomes are:
- Increased understanding of personal wellbeing (physical and mental health)
- Improved understanding of the Australian health system
- Increased knowledge and ability to access youth services and youth-focused health services
- Increased knowledge and ability to access recreation services including sporting clubs and local spaces,
- Increased knowledge and ability to access mainstream health services such as mental health counselling and nutritionists.
- Clients will be empowered to provide information they have learnt to other community members