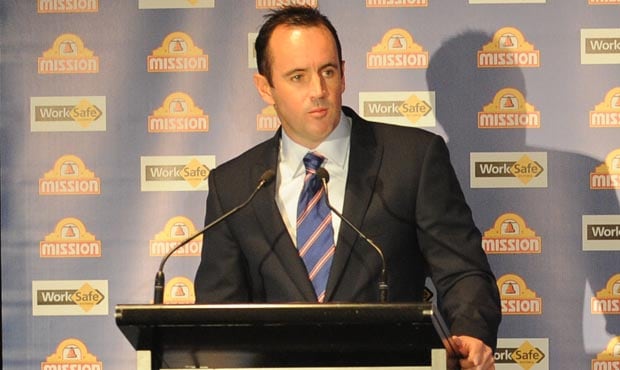 The Western Bulldogs have announced an operating loss of $143,090 for the year ending 31 October 2013.
Bulldogs Chief Executive, Simon Garlick said that the Club had worked hard  in 2013 to minimise the financial impact of two challenging years on-field while continuing to increase investment in our core business – football. 
"The entire Club has balanced the need to manage expenditure while continuing to invest in our football department in what is clearly recognised as an unequal environment," Garlick said.
"Although today's result falls short of break-even for the Club – the operating loss represents less than one half of one per cent of total revenue for the year. 
"While the Club is reporting a small operating loss it is encouraging that our EBITDA for the 2013 year was $1.881 million and that we have increased revenue by $1.3 million in 2013, enabling us to invest an extra $1.18 million into football. 
"The Club expects to invest up to a further $1.5 million in football next year - looking to have the capacity to pay the full salary cap if strategically required. 
"This will represent a $2.7 million increase in football department spending since 2012 despite which the Club expects to remain in the bottom quartile of AFL Club football department spend in 2014," Garlick said.
Click here to download the full 2013 Western Bulldogs Financial Report.
Garlick said that it was important to note that the Club had prioritised increasing spending in football to ensure on-field competitiveness.
"The Club looks forward to continuing to work with the AFL and other stakeholders to invest in the future health of the code through broader revenue sharing opportunities," Garlick said.
"The Club appreciates the engagement of the AFL and the other clubs in relation to revenue sharing and efforts to enhance the competitiveness of the league next year and we look forward to continuing dialogue aimed at boosting the over-all health of our competition.
"While the implementation of world's best practice revenue sharing system is essential for our Club, no-one should doubt our resolve to build our support base and all aspects of our business.
"We thank the lifeblood of our Club, our members and fans for their support this year and urge those that did sign up to do so again and importantly that those who did not to make sure they commit to being a part of the Bulldogs Pack in 2014," Garlick said.
Garlick also acknowledged the Club's Major Partner Mission Foods, Premier Partners WorkSafe Vic, Kooga and Victoria University for their continued support in 2013 and thanked all of our partners for their contributions, including Gordon Legal which has significantly increased its support to the Club this year.
"2014 is set to be a big and exciting year for the Club with our own VFL team, the Footscray Bulldogs returning to Victoria University Whitten Oval and a competitive year expected from our senior side," Garlick said.
Click here to download the full 2013 Western Bulldogs Financial Report.