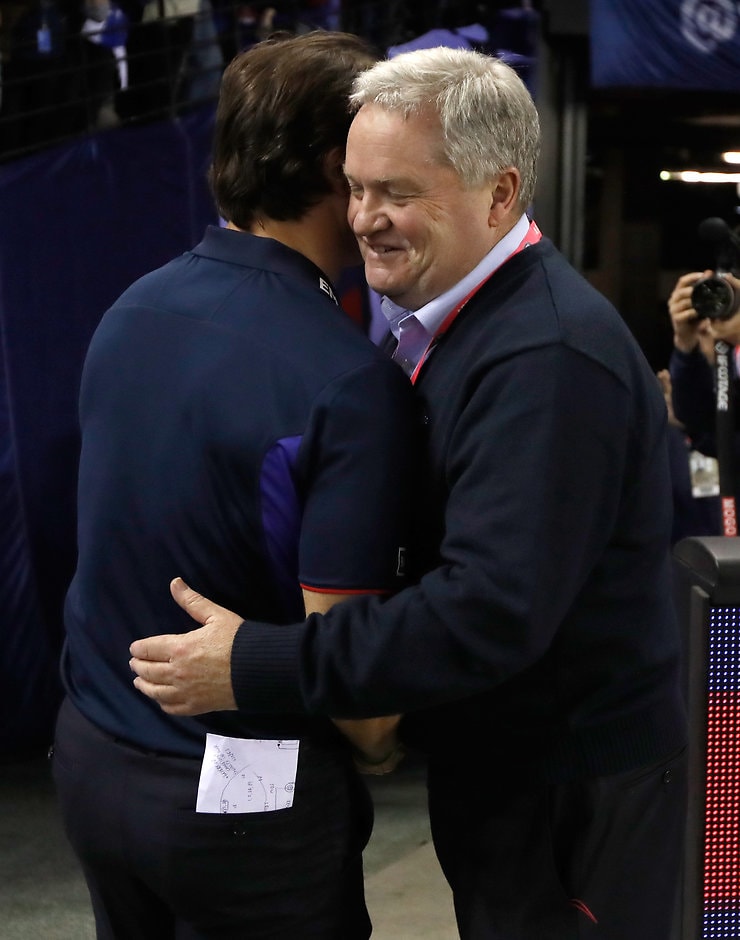 We now look to a period of the next 10 years where, for the first time in 100 years, we can move and make a significant shift out of the bottom quartile size-wise.
Peter Gordon
ON THE eve of the Western Bulldogs' second consecutive finals series under Luke Beveridge, club president Peter Gordon has described the next 10 years as a period of unprecedented opportunity for the club.
With 41,000 members, revenue on the up, average crowds above 30,000 for the first time since 2010, a women's team in the AFL's inaugural national women's league, an exciting young list, profits and a home game planned in Ballarat next season, Gordon is bullish.
The 58-year-old sees this as the chance for the club to push not only for a flag but to establish the sort of security it has craved for decades.
"We now look to a period of the next 10 years where, for the first time in 100 years, we can move and make a significant shift out of the bottom quartile size-wise," Gordon told AFL.com.au.
Gordon has had his knockers, questioning his involvement in the negotiations to land Tom Boyd, a decision that revived hope in the minds of many Bulldogs supporters during a tumultuous time.
The level of his involvement in the club has also been questioned and the departure of former chief executive David Stevenson a month ago raised eyebrows.
However, all the indicators point to a club on the rise with Marcus Bontempelli, Easton Wood, Mitch Wallis, Tom Liberatore, Jake Stringer, Luke Dahlhaus, Jack Macrae, Tom Boyd, Jason Johannisen, Lachie Hunter and Caleb Daniel the envy of supporters of many clubs.
Gordon said he's more than happy for the club to be judged on its achievements during his second stint as president and that claims he is too hands-on are an external perception rather than reality.
"We have got a range of people with different skills and none of them are shrinking violets. The position we (the board) have taken on key issues, including David Stevenson [leaving] have been unanimous positions," Gordon said.
"If there was significant unrest in the management or the governance of the Bulldogs about any particular individual and excessive influence, you would see the result of that in all sorts of ways including unrest in the football department, unrest on the board, factionalism in the board and diminution in results."
Gordon confronts such questions, which arose about a month ago before going quiet, head-on, and he doesn't accept that criticism is valid.
After relinquishing the acting chief executive role he held last year, he said he now spends one and a half days a week on football matters but he makes no apology for getting involved when his skills can benefit the football club.
"I will make judgments on how hands on I need to be in any given situation based on what I think is in the best interests of the club. I will listen to my CEO and my board and my coach and my captain and people whose judgments I respect as to whether I am crossing the line," Gordon said.
He said it is a mistake to think the only robust discussions happening at the Bulldogs in 2016 were between the president and the former CEO.
"I have robust discussions with other board members and so did Dave. We are a robust organisation. We don't fear robust discussions with each other and challenging the norm. In fact a club that has perennially been in the bottom quartile needs to disrupt the status quo," Gordon said.
He said the club, which has not won a premiership since 1954 or played in a Grand Final since 1961, has a mindset that gives it a chance.
"We have been through decades and decades where decisions have been dictated by our lack of revenue, lack of capacity to pay, lack of capacity to compete and the concomitant lack of preparedness to make a risky decision because if it goes wrong the consequences might be catastrophic for the club," Gordon said.
"There was a certain reserve or fear as to how it will be perceived if we take that risk and it goes wrong. All of our decision making these days is with the single-minded view (of) how do we continuously improve in order to have that opportunity to win a second flag."
Gordon said he is now in a financial position to invest in opportunities but he has used that circumstance to also convince other wealthy Bulldogs members – who he does not name - to get behind the club.
He said that has engendered confidence throughout the Western Bulldogs.
And a hope that he can one day see his team in a Grand Final, with an outside possibility it may even happen this season, despite the continuous setbacks the club has faced with injury to key players.
So what is a pass mark for 2016?
"I am not a teacher. I don't believe in pass marks. What I can say is that I am immeasurably proud of Luke Beveridge and the players and everyone who has contributed to the on-field effort."