Western Bulldogs v Brisbane Lions
Etihad Stadium, Melbourne

Bob Murphy's 300th Game
1:45, Saturday 22 April

Gates Open: 12:00pm
Match day sponsor

VicHealth are providing 1000 co-branded Western Bulldogs and VicHealth water bottles which will be given away pre-game at the Footscray end (Gate 7). Be sure to fill up your bottle for FREE at any of the 10 water stations located throughout Etihad Stadium. The lucky 300th fan to fill up their bottle will be the lucky recipient of a Bob Murphy 300 game prize pack.

Get Your Seat in Bob's Bay

Celebrate captain Bob Murphy's milestone 300th game, with a seat in 'Bob's Bay.' Located in Aisle 44 on Level 1 of Etihad Stadium, tickets cost just $55 for adults, and include a limited edition 'Bob 300' cap. To access this offer, simply visit Ticketmaster and use the code word BOB300 to purchase one of these limited ticketing packages in 'Bob's Bay.'

To purchase your 'Bob's Bay' seat, click here and remember the code word BOB300.

**NB: Bob300 caps will be available for Bob's Bay ticket holders to collect at the Membership Club Hub outside Gate 5 on match day.**


WIN the chance to toss the coin at Bob's 300th game in Round 5

The Western Bulldogs are giving you the chance to WIN the opportunity to toss the coin at the upcoming round five match between the Western Bulldogs and Brisbane Lions at Etihad Stadium on Saturday 22 April 2017.

The match is set to be Bulldogs captain Bob Murphy's milestone 300th game, with the lucky competition winner to also win a limited edition 'Bob 300' Guernsey.

To enter for your chance to win, click here.

Entries close at 12:00pm, Thursday 20 April 2017, with the winner to be notified shortly after.




Membership & Ticketing

Next Saturday afternoon's match against the Brisbane Lions will be a Western Bulldogs home match.
Tickets are available for purchase from Ticketmaster.
Member Club Hub will be located at gate 5 – your one stop destination for all membership sales and enquiries
Merchandise - Bob300 Range
Find your nearest Bulldogs Shop outlet across all three levels of Etihad Stadium to get your hands on the limited edition range merchandise to celebrate captain Bob Murphy's 300th game.
Only available at the game is a commemorative 'Bob 300' cap, available for just $10 at any Bulldogs Shop outlet at the ground.
The Bulldogs Shop will be at seven locations, across three levels of Etihad Stadium. They are:
Outside Concourse - Outside Gate 5
Level 1 Internal Concourse - Inside Gates 3,5,7 and 8
Level 2 Internal Concourse - Gate 6
Level 3 Internal Concourse - Gate 6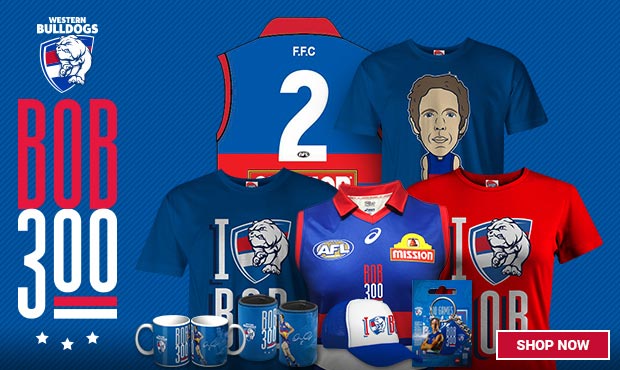 Match day sponsor

VicHealth are providing 1000 co-branded Western Bulldogs and VicHealth water bottles which will be given away at the Footscray end and sponsoring water stations where people can refill all water bottles free. The lucky recipient of the 300th bottle given away will receive a Bob Murphy prize pack.



ANZAC Round Commemorations
After liaison with relevant RSL State Bodies, the AFL and Clubs have been advised that it is the RSL's preference to host only one (1) official ANZAC Observance Ceremony in each state. Please see the select list of AFL fixtures at which ceremonies will occur.
Port Adelaide vs Carlton - AO
Gold Coast Suns vs Adelaide Crows – MS
Sydney Swans vs GWS Giants - SCG
Fremantle vs North Melbourne – DS
Essendon vs Collingwood – MCG

Subsequently, there will be no ANZAC Observance ceremony at Saturday's match between the Western Bulldogs and the Brisbane Lions.

Teams
Teams will be available at www.westernbulldogs.com.au/teams from 6:25pm on Thursday 20 April.


Social media
Follow @westernbulldogs on Twitter for the latest breaking match day news and quarter-by-quarter scores.
Follow @westernbulldogs on Instagram for all the behind the scenes photos from match day.
Like the Western Bulldogs Facebook page for the latest breaking news, behind the scenes video and much more from the Kennel.
Exclusive to westernbulldogs.com.au