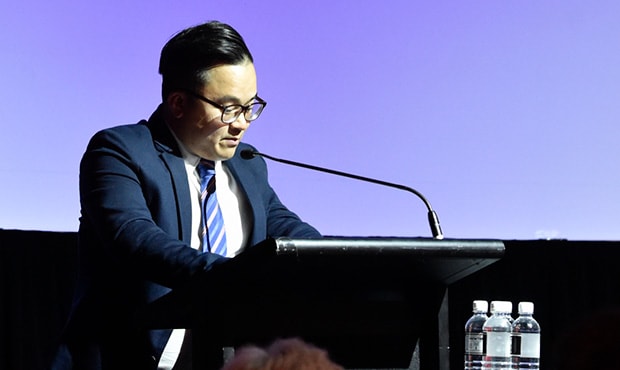 For Western Bulldogs Community Foundation Adapter, Huynh Quang, settling into life in Australia wasn't always easy. However, through volunteering with the Western Bulldogs Community Foundation's Ready, Settle, Go program, Huynh has reflected upon his own personal hardships to help newly arrived migrants adapt to Australian culture.
Huynh Quang was six years old when he fled Vietnam with his parents in 1992.
Uncertain of their fate, and not speaking a word of English, Huynh and his family travelled to unfamiliar territory with hope for a better life.
Upon their arrival, Huynh and his family found their new home in Footscray, right across from Victoria University Whitten Oval, on Adelaide Street.
With red, white and blue at his doorstep, Huynh's curiosity around the game grew enough to encourage him to eventually pick up a football.
"I remember first picking up a football and thinking to myself, what a weird looking ball this is. I mean how am I supposed to even kick this thing?" he said.
With his English skills growing rapidly, Huynh gained enough confidence to join his local football club at the age of nine.
"I began to like the game. I learnt how to kick, I learnt that a catch was called a mark and I learnt how to take speckies off my friends' back," he said.
"I made friends, I was part of a team".
Huynh started volunteering with the Western Bulldogs Community Foundation after he was introduced to the program by his brother.
"From the first moment I started, I knew that this was something special," Huynh said about the Community Foundation's settlement services.
"(Ready, Settle, Go) doesn't just keep the kids fit, it allows them to learn English, interact with other kids, make friends and fit in to their new surroundings".
"I look at these kids and I wish that I had something like this when I was younger".
Huynh's assistance with the program has allowed him to become a familiar face at VU Whitten Oval, where he spends his time working alongside the settlement services team.
"The truth is, I really do love what I do and I think I've found my passion," Huynh said about his work with the club.
"Teaching and helping these kids brings me back to when I was younger and I can feel how they feel. Coming to a new country and trying so hard to fit in with your new way of life is hard, I can you tell you that. That's why these programs run by the Western Bulldogs are so important".
"I feel so proud to be working for a football club who care so much for their community and give so much back. I can tell you that when we won the Premiership last year, every one of my Vietnamese Uncles and Aunties were cheering for the Bulldogs.
"I hope I can continue to work even harder for the community and give back to the country who has given me and my family so much".