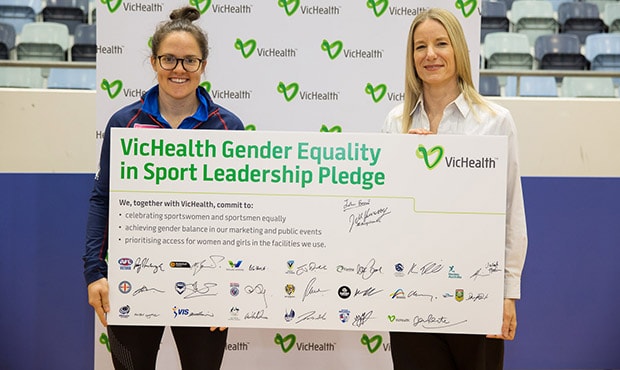 The Western Bulldogs Football Club is proud to announce a continuation of their partnership with VicHealth ahead of the upcoming AFLW season.
The Western Bulldogs will support VicHealth's This Girl Can - Victoria campaign by working alongside the health promotion foundation to continue to raise the profile of women's sport.
A key component of the partnership is the recently launched Daughters Of The West Program in which VicHealth is a partner. The program perfectly aligns with the upcoming campaign as it aims to further addresses some of the key barriers that prevent women from being active.
AFLW midfielder Emma Kearney will also serve as an ambassador for the Daughters Of The West program.
The partnership announcement further highlights the Club's commitment to women's sport and is an extension of the previous work undertaken by both parties throughout the inaugural AFLW season and "Change Our Game" campaign.
Chief Commercial Officer Nick Truelson, who signed the VicHealth Gender Equality in Sport Leadership Pledge on behalf of the Club, said that the partnership further signifies the Club's ongoing commitment to gender balance and women in sport.
"We're absolutely thrilled to be once again working alongside VicHealth which is an organisation that has many of the same shared values as the Club," said Truelson.
As part of the announcement VicHealth announced $6.7 million in funding to 19 sporting organisations, designed to get more Victorian women and girls healthy and active over the next three years.
Minister for Health, Jill Hennessy and Minister for Sport, John Eren have also both backed VicHealth's new investment.
"Participation in sport and physical activity is the key to better health and wellbeing," said Minister Hennessy. "This new funding will deliver more opportunities for women and girls to get involved in grassroots sports and physical activity."
Minister Eren added, "Victoria is leading the way when it comes to levelling the playing field for women's sport and this funding will ensure that momentum continues – encouraging even more women and girls to play the game they love."
VicHealth CEO Jerril Rechter said "The funding represents the organisation's biggest ever investment in female sport, which will deliver a range of new opportunities, especially designed to help Victorian women and girls get involved in sport and physical activity – including those who've never played sport."
Find out more about the This Girl Can - Victoria campaign by visiting thisgirlcan.com.au and you can join the supportive This Girl Can - Victoria online community on Facebook, Instagram and Twitter.