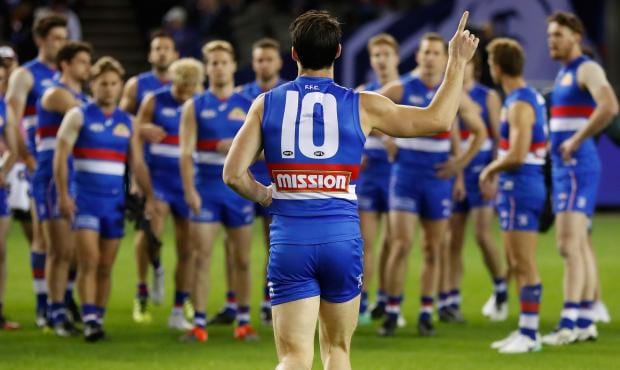 It's been a busy couple of months at VU Whitten Oval for the Club's Recruiting and List Management teams, but the playing list for the 2018 Toyota AFL Premiership season has been finalised and submitted to the AFL ahead of Wednesday's deadline.
The Dogs added Aaron Naughton, Ed Richards and Callum Porter at last week's NAB AFL Draft in Sydney, before selecting Billy Gowers, and recommitting to Roarke Smith during Monday's Rookie Draft.
The latest generation of pups will be joined by former Fremantle forward Hayden Crozier, Power utility Jackson Trengove and young Lions forward Josh Schache, who arrived at the Club during the 2017 Trade period.
Full list
Marcus Adams, Shane Biggs, Marcus Bontempelli, Thomas Boyd, Tom Campbell, Kieran Collins, Zaine Cordy, Hayden Crozier, Luke Dahlhaus, Bailey Dale, Caleb Daniel, Tory Dickson, Josh Dunkley, Timothy English, Fergus Greene, Mitch Honeychurch, Lachlan Hunter, Jason Johannisen, Lin Jong, Thomas Liberatore, Patrick Lipinski, Jackson Macrae, Toby McLean, Dale Morris, Aaron Naughton, Liam Picken, Callum Porter, Jack Redpath, Edward Richards, Fletcher Roberts, Jordan Roughead, Joshua Schache, Clay Smith, Matthew Suckling, Jackson Trengove, Mitchell Wallis, Lukas Webb, Bailey Williams, Easton Wood, Lewis Young
Category A Rookies: Billy Gowers, Bradley Lynch 3rd Year, Nathan Mullenger-McHugh 2nd Year, Roarke Smith
| | | | | | |
| --- | --- | --- | --- | --- | --- |
| | WSTRN BLDGS | Marcus | Adams | | 1 |
| | WSTRN BLDGS | Shane | Biggs | | 2 |
| | WSTRN BLDGS | Marcus | Bontempelli | | 3 |
| | WSTRN BLDGS | Thomas | Boyd | | 4 |
| | WSTRN BLDGS | Tom | Campbell | | 5 |
| | WSTRN BLDGS | Kieran | Collins | | 6 |
| | WSTRN BLDGS | Zaine | Cordy | | 7 |
| | WSTRN BLDGS | Hayden | Crozier | | 8 |
| | WSTRN BLDGS | Luke | Dahlhaus | | 9 |
| | WSTRN BLDGS | Bailey | Dale | | 10 |
| | WSTRN BLDGS | Caleb | Daniel | | 11 |
| | WSTRN BLDGS | Tory | Dickson | | 12 |
| | WSTRN BLDGS | Josh | Dunkley | | 13 |
| | WSTRN BLDGS | Timothy | English | | 14 |
| | WSTRN BLDGS | Fergus | Greene | | 15 |
| | WSTRN BLDGS | Mitch | Honeychurch | | 16 |
| | WSTRN BLDGS | Lachlan | Hunter | | 17 |
| | WSTRN BLDGS | Jason | Johannissen | | 18 |
| | WSTRN BLDGS | Lin | Jong | | 19 |
| | WSTRN BLDGS | Thomas | Liberatore | | 20 |
| | WSTRN BLDGS | Patrick | Lipinski | | 21 |
| | WSTRN BLDGS | Jackson | Macrae | | 22 |
| | WSTRN BLDGS | Toby | McLean | | 23 |
| | WSTRN BLDGS | Dale | Morris | | 24 |
| | WSTRN BLDGS | Aaron | Naughton | | 25 |
| | WSTRN BLDGS | Liam | Picken | | 26 |
| | WSTRN BLDGS | Callum | Porter | | 27 |
| | WSTRN BLDGS | Jack | Redpath | | 28 |
| | WSTRN BLDGS | Edwards | Richards | | 29 |
| | WSTRN BLDGS | Fletcher | Roberts | | 30 |
| | WSTRN BLDGS | Jordan | Roughead | | 31 |
| | WSTRN BLDGS | Joshua | Schache | | 32 |
| | WSTRN BLDGS | Clay | Smith | | 33 |
| | WSTRN BLDGS | Matthew | Suckling | | 34 |
| | WSTRN BLDGS | Jackson | Trengove | | 35 |
| | WSTRN BLDGS | Mitchell | Wallis | | 36 |
| | WSTRN BLDGS | Lukas | Webb | | 37 |
| | WSTRN BLDGS | Bailey | Williams | | 38 |
| | WSTRN BLDGS | Easton | Wood | | 39 |
| | WSTRN BLDGS | Lewis | Young | | 40 |
| Category A | Wstrn Bldgs Rookies | Billy | Gowers | | 1 |
| Category A | Wstrn Bldgs Rookies | Bradley | Lynch | 3rd Year | 2 |
| Category A | Wstrn Bldgs Rookies | Nathan | Mullenger-McHugh | 2nd Year | 3 |
| Category A | Wstrn Bldgs Rookies | Roarke | Smith | | 4 |