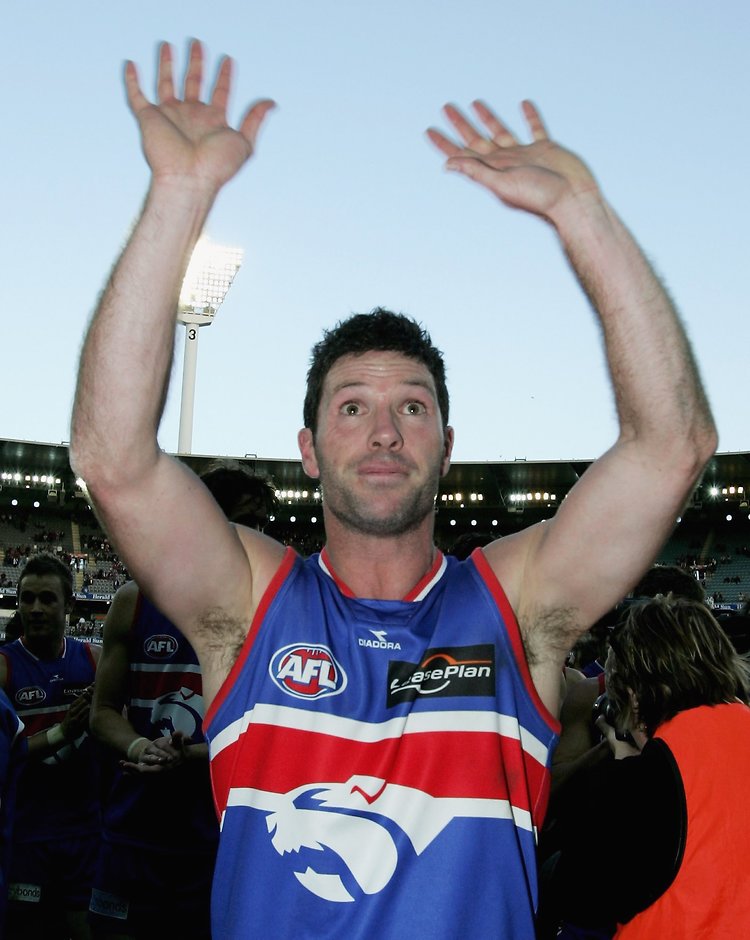 When St Kilda's Leigh Montagna announced that the 2017 season was his last in the AFL, he closed one of the league's last remaining 'gaps' under the 300-game mark. Montagna became the first player to end his career with a total of 287 games, the lowest AFL games total which had not been previously attained.
Below the 300-game mark (on which nine AFL players - including Bulldog Rohan Smith - have ended their careers), there are now only four 'unclaimed' career-end game totals: 295, 296, 298 and 299. Another few games to the Western Bulldogs' Matthew Boyd, who retired in 2017 with 292 games to his name, could have seen him claim one of those totals, but it was not to be.
So, from a club point of view, where are the gaps in the Bulldogs' list of games totals?
Unsurprisingly, there are no gaps near the bottom of the table, with 74 players having made one appearance for the Bulldogs (0.07% of all players, a slightly lower figure than the league average), and 71 playing two games for the club.
The numbers thin down until we get up to 44 and 48, with Bill Doolan, who played for Footscray between 1925 and 1928, the only Bulldog to have finished with a total of 44 games. Michael Martin (1995-1998), meanwhile, is the only Bulldog to finish with a total of 48 games (although he later played 10 with Brisbane).
Continuing the count up, the first games total on which none of the 1000 V/AFL Bulldogs have closed their career is 52. That is number is currently Shane Biggs' total, but no one at Whitten Oval, least of all Biggs himself, will be wanting to see the 2016 premiership player stop there.
As we move up towards the 100-game mark, gaps begin to appear in the club list. No Bulldogs have finished with a games total of 56 or 71, nor have any Dogs finished on 82 games or 87 games.
There are several gaps in the '90s', with 90, 91, 93, 94 and 97 all not yet represented.
Looking at milestone finishes, Rohan Smith, as mentioned above, is the only Bulldog to finish up on exactly 300 games, while no Dog has ended their career with 250 games, the nearest being Steve Wallis, who made 261 appearances in the hoops.
Club Hall of Famer Norm Ware is the only player to finish up on exactly 200 games, although Brian Royal just missed out, ending his career with 199 games and 299 goals to his credit.
No Bulldogs have ended with a total of exactly 150 games, although three - David Thorpe, Allan Hopkins and Jim Gallagher - all played 151. Gallagher's total, incidentally, is the highest by a Bulldog who never kicked a goal.
Dick Wearmouth (father of Collingwood's Ron) and the late Dennis Collins both played exactly 100 games for Footscray, while Graeme Austin and Joel Bowden played each played precisely 50 games in Bulldogs colours.
The 'Smiling Assassin', Brad Johnson, remains the Bulldogs' clubhouse leader with 364 games, while the Dogs' other completed careers above 300 comprise Chris Grant (341 games), Doug Hawkins (329), Scott West (324), Ted Whitten (321) and Bob Murphy (312).
Doggies' fans everywhere, and Johnson himself, will be hoping that many of the current crop of Pups can go on to have long and distinguished careers that will - with a bit of luck along the way - see them fill many more gaps above the 300-game mark for the red, white and blue.