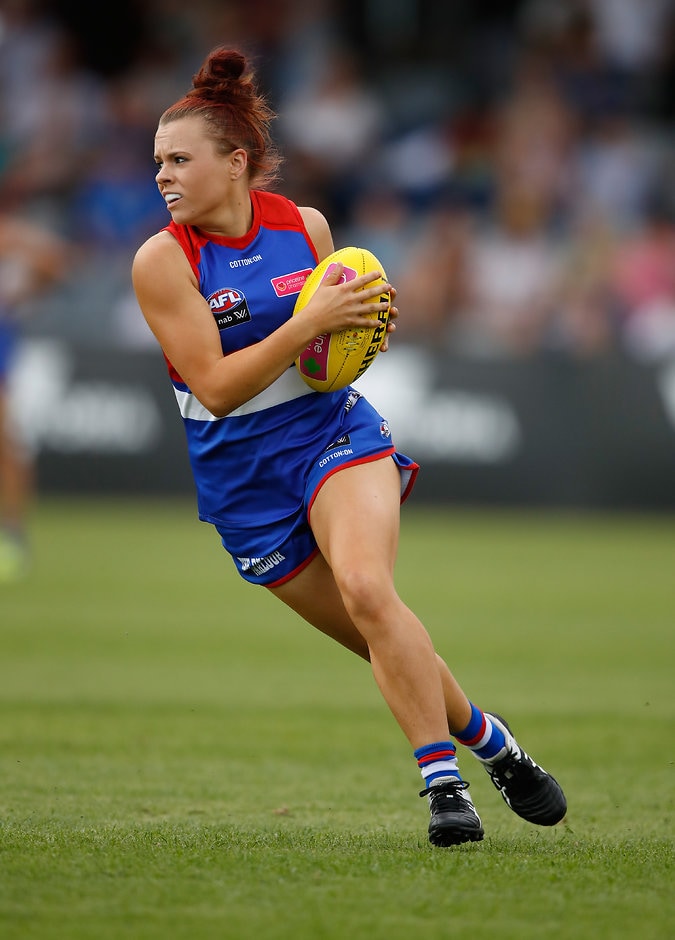 "Beware" of the Crows
It hasn't been the ideal start to the 2018 season for Adelaide after successive losses to Brisbane and Melbourne to open their premiership defence, but coach Bec Goddard has sent a warning to the competition about writing her side off too early.
"And beware of writing us off," she told the Adelaide Advertiser on Thursday. It's a fair warning, though. The Crows have fallen to two of the most talented sides in the competition, and all without All-Australian pair Erin Phillips and Courtney Cramey.
Still, there'll be far too much talent running out on Norwood Oval in the red, yellow and Navy on Saturday, and with added incentive of it being a must-win contest, the Dogs will have their work cut out for them if they want to keep their winning streak alive.
Shooting stars
After the Dogs rolled over the top of the Dockers in Round 1, a lot of the focus fell onto the Dogs' marquee players, Katie Brennan and Ellie Blackburn who spearheaded the 26-point win.
But the Dogs' are proving to be far from top heavy with players like Jenna Bruton, Monique Conti and Kirsty Lamb showing plenty of potential and that's before we talk about this week's NAB Rising Star duo Libby Birch and Bonnie Toogood.
The 2-0 start is great, but you can bet the contributions coming from across the board will most please coach Paul Groves.
The itch to switch
Speaking of Birch and Toogood, haven't these two made it look easy? Both girls have backgrounds in netball, really recent backgrounds, and there they were on Tuesday fronting a press conference as NAB Rising Star nominees.
The 20-year-old Toogood played for the Southern Saints in the Victorian Netball League, while the talented Birch made the switch three months before the Dogs picked her up in the 2016 Rookie Draft, such was her athletic promise.
Surely somewhere the next cross-code star is thinking about making the switch after watching these two pull it off as well as they have.
The Run Home
So here we are, two weeks in and the Dogs have already matched last year's win total. That's not to say Groves and his team will be resting on their laurels – nope, there's a real opportunity in Adelaide this weekend to set the rest of the season up.
The Dogs will have opened up with two out of three games on the road, two of them against last year's grand finalists. So far, so good. But win this one and the they'll be staring at three of the next four back in Melbourne, including two at Victoria University Whitten Oval.
The short season means there's plenty on the line every week, but a win this weekend would set the Dogs up nicely for the remaining rounds.