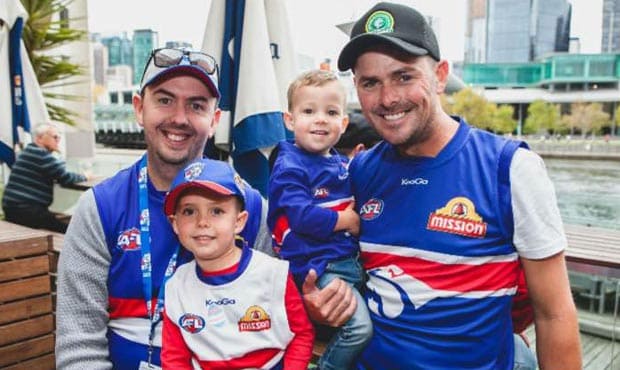 The Western Bulldogs will celebrate their Member Recognition Round this week, building up to Saturday night's match against St Kilda.

Every weekday, the Club will turn the spotlight onto one of the Club's members and share their story, showcasing the passion they have for the red, white and blue.
Members were invited to submit their story to westernbulldogs.com.au last week. Each member whose story is shared this week on westernbulldogs.com.au, will receive a double pass to be involved in the guard of honour for Saturday night's match.
Member: Timothy Nisbet
Western Bulldogs member because...
I was red, white and blue from the beginning 35 years ago. My Brother and I were wearing hand made knitted footy jumpers when we were two years old. Dad and his father were Footscray supporters and we are continuing that legacy.

My first memory of being a Bulldogs member, or going to a Bulldogs match is…
Attending games at Whitten Oval. As kids, this is where my passion for the club started. When you get older you start to
appreciate the game and the club more. With such a proud history and sense of community It's a thrill to play a small
role as a member, a very proud member at that.

My favourite Bulldogs football memory is…
There's so many, but I guess the first time I joined as a member. I moved to Melbourne from country Victoria and the Bulldogs were a big part of my life. From kids coming by train from the other side of Ballarat, and to now at 35 years old to be still going with my Dad and brother is brilliant

The Bulldogs are important to me because…
they have been such a massive part of growing up. I still get goosebumps simply going to Whitten Oval for an event or
to watch training. I love getting my membership pack every year. It's a great feeling to be a part of such a great club.