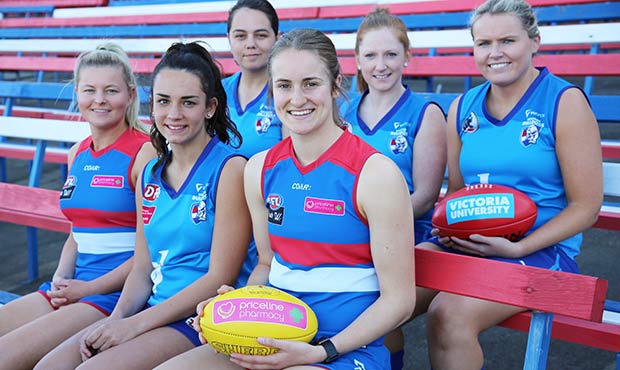 The fixture for the 2018 Swisse Wellness VFL Women's competition has been released, with the opponents for the Western Bulldogs' first foray into the women's state league confirmed.
The Bulldogs will open their 2018 campaign against VFLW newcomer Richmond at Victoria University Whitten Oval on Saturday 5 May, which will also be the first of two VFL/VFLW double-headers at the venue in the opening month of the season.
A further two away VFL/VLW double-headers will be played – against the Casey Demons (Rd7) and Williamstown (Rd11) – in which the Footscray Bulldogs will play back-to-back with the Western Bulldogs VFLW team.

The revamped competition will see the Bulldogs play in the Northern Territory at Darwin's TIO Stadium in June, facing off against the NT Thunder – the first ever interstate VFL Women's team.

Three home venues will be used by the Bulldogs, playing home games at Victoria University Whitten Oval, Footscray's Henry Turner Reserve, along with one match at Mars Stadium.
A three-week finals series will begin on the weekend of September 8 / 9 before the Grand Final on the weekend of September 22 / 23.
It was revealed in October 2017 that the Western Bulldogs would field a team in the VFL Women's competition, after the Club strengthened its partnership with VU Western Spurs.
The Bulldogs and Spurs have developed a strong relationship in the last three years, and in 2018 the Spurs' senior VFLW team will be known as the Western Bulldogs and will wear the red, white and blue colours.
The Bulldogs' full fixture can be viewed below.
2018 Swisse Wellness VFL Women's
Round 1 – Saturday 5 May
Western Bulldogs v Richmond, 4pm, Victoria University Whitten Oval *
Round 2 – Sunday 13 May
Carlton v Western Bulldogs, 12:00pm, Preston City Oval
Round 3 – BYE
Round 4 – Saturday 26 May
Western Bulldogs v Collingwood, 2pm, Victoria University Whitten Oval *
Round 5 – Saturday, 2 June
NT Thunder v Western Bulldogs, 4pm, TIO Stadium – Darwin
BYE – Queen's Birthday Weekend
Round 6 – Saturday 16 June
Western Bulldogs v Williamstown, 2pm, Henry Turner Reserve – Footscray
Round 7 – Saturday 23 June
Casey Demons v Western Bulldogs, 4pm, Casey Fields *

Round 8 – Sunday 1 July
Western Bulldogs v Geelong Cats, 2pm, Mars Stadium – Ballarat

Round 9 – Sunday 8 July
Melbourne University v Western Bulldogs, 2:30pm, Melbourne University Main Oval

Round 10 – Sunday 15 July
Western Bulldogs v Essendon, 2pm, Henry Turner Reserve – Footscray

Round 11 – Saturday 21 July
Williamstown v Western Bulldogs, 11:30am, Williamstown Football Ground*

Round 12 – BYE
Round 13 – Sunday 5 August
Western Bulldogs v Southern Saints, 12pm, Henry Turner Reserve – Footscray

Round 14 – Sunday 12 August
Hawthorn v Western Bulldogs, 2pm, Box Hill City Oval

Round 15 – Saturday 18 August
Western Bulldogs v Melbourne University, Henry Turner Reserve – Footscray

Round 16 – Saturday 25 August
Darebin Falcons v Western Bulldogs, Bill Lawry Oval - Northcote
* = Double Header With Peter Jackson VFL Match