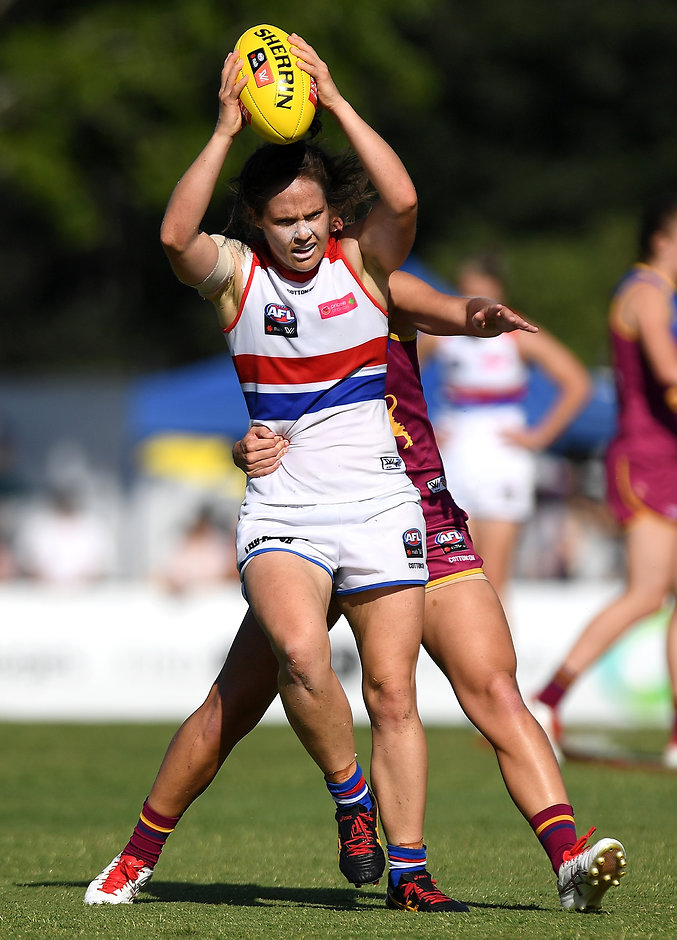 Western Bulldogs midfielder Emma Kearney is sharing top spot on the Shadforth Financial Group AFLCA AFLW Champion Player of the Year leaderboard after picking up seven votes in the weekend's win over Brisbane.
Teammate Ellie Blackburn has held her place in the top four on the back of her 10 vote outing in Round 1, but it's Kearney who has shot to the lead after strong performances in the opening two rounds of the season.
Kirsty Lamb's 20 disposals and four marks saw her earn her first votes for the year while Lauren Spark and Jenna Bruton also caught they eye of the coaches.
Every round, the AFLW coaches vote for the best players from their game. The coaches vote for five players, giving them a mark from 1-5.
The maximum a player can score is 10 (with five votes from both coaches).
Votes: Western Bulldogs v Brisbane
8 Lamb (WB), 7 Kearney (WB), 5 Spark (WB), 3 Bates (BL), 3 Randall (BL), 2 Anderson (BL), 2 Bruton (WB)
LEADERBOARD
13 — BRIANNA DAVEY (CARL)
13 — EMMA KEARNEY (WB)
11 — DANA HOOKER (FREM)
10 — ELLIE BLACKBURN (WB)
10 — SABRINA FREDERICK-TRAUB (BL)
10 — CHLOE MOLLOY (COLL)
10 — KAREN PAXMAN (MELB)
10 — CHELSEA RANDALL (ADEL)
9 — EBONY ANTONIO (FREM)
9 — ELISE O'DEA (MELB)
9 — DAISY PEARCE (MELB)