Three powerful, real-life stories told by people who have faced some incredibly tough challenges. 
Learn from their experiences as they share how they developed mental resilience to not just survive but thrive – at work and in life.


Program Information
Bounce Back will shine a light on real stories of mental health, strength and resilience and how they can be applied to life and the workplace. 
It takes lessons learned from AFL great Bob Murphy, survivor turned White Ribbon advocate Simone O'Brien, renowned mental health ambassador Jake Edwards and leading workplace mental health consultant Anna Feringa of EML.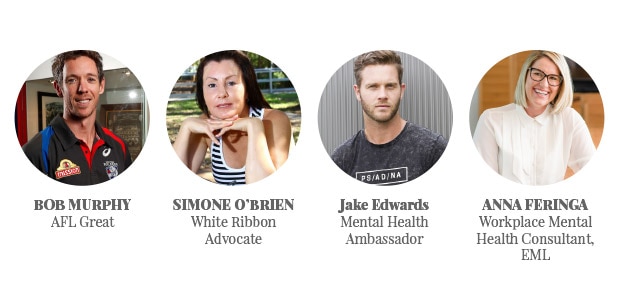 You'll hear stories about struggling with mental health issues and mental health stigma, coping with sometimes overwhelming life responsibilities and the expectations of others, and finding the strength to overcome them. 
Our speakers will inspire you, as they share their hard-earned lessons in facing their unique, and often confronting, life experiences. 
We all face challenges in our work and personal lives, but it's how we respond that defines us. This is a chance to bounce back. 

For more information 
For more details on the Bounce Back program including program dates and costs please email bounceback@westernbulldogs.com.au.