Western Bulldogs Community Foundation Workplace Training Programs
The Western Bulldogs Community Foundation offers a range of corporate training programs from anti-racism training to workplace wellbeing!
Anti-racism training
Workshops designed to build culturally inclusive workplaces through strong allies and supportive and educated environments.
Speak to us today about options for your organisations.
Email: foundation@westernbulldogs.com.au
A Health and Wellbeing Program Brought to you by the Western Bulldogs Community Foundation 
Are you looking for a fun and educational program aimed at improving the mental and physical health of your staff?  
Based on the highly successful Sons of the West and Daughters of the West health programs, the Best on Ground program features a series of workshops, presentations and experiences that are sure to engage your staff.     
Why workplace health and wellbeing? 
It's not just athletes who need to lead a healthy life to be their best on the field.  
Did you know: 
T

here is a measurable link between a person's health and lifestyle and how productive they are at work. 

 

Employees with poor overall health status are nine times more likely to request sick days compared to healthy employees.

Staff stress and morale is linked to absenteeism and lack of productivity.

 
Choose from a wide range of modules to suit your business and employee needs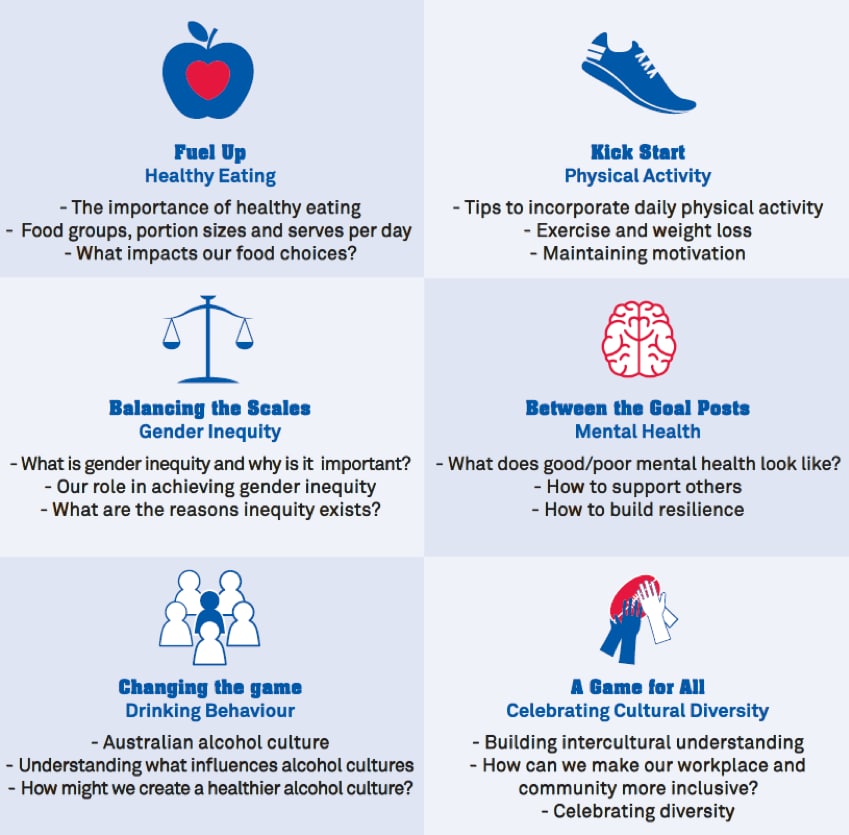 Proven life-changing health and wellbeing program  
 "My mind became a lot clearer, I felt a lot healthier, mentally and physically...If it can work for me, it can work for anyone." Phil (Sons of the West) 
"I have lost 10kgs by cutting out late night snacking on chocolate...I stopped making excuses and got into a routine of exercising- 10,000 steps (Mon-Fri)." Kate (Daughters of the West).
How Your Booking Helps Beyond Your Workplace 
By booking a program for your workplace you will not only be making a positive impact on the lives of your staff but also supporting the community. All funds raised go towards ensuring that the Sons of the West and Daughters of the West community health programs remain free for those who need them most. 
Book your program today!   
Phone: (03) 9680 6172