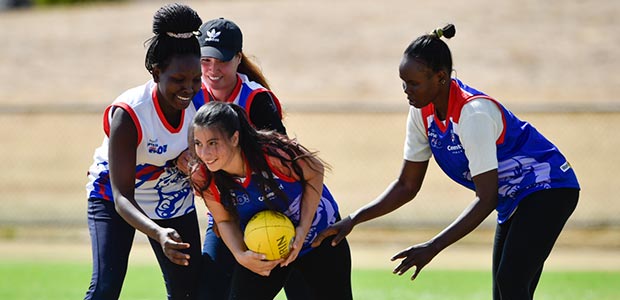 Are you interested in learning and experiencing Australian Rules Football?
Participate in a free clinic open to International Students and families where you will learn the rules of the game, gain hands on football skills, hear from AFL players, watch a live AFL game with your supporter beanie and flag plus enjoy complimentary traditional footy food.
The clinic includes:
- Introduction to football education session
- Football clinic on the ground at VU Whitten Oval where you will learn the skills involved in AFL including kicking, handballing and tackling
- Q & A session with Western Bulldogs players
- Free traditional footy food
- Free Western Bulldogs supporter beanie and flag
- Free public transport to Marvel Stadium by train from the adjacent West Footscray Train Station
- Free ticket to attend an AFL game at Marvel Stadium following the clinic
Saturday 4 May
3.30pm, VU Whitten Oval
*Includes attending the AFL Premiership Season match, Western Bulldogs vs Richmond at Marvel Stadium (game starts at 7.25pm)
Supported by Study Melbourne and Victoria University
Spaces are limited, so complete your details in the form below, and sign-up today.
Frequently Asked Questions
Can I register if I am not an International student?
This Clinic is strictly for International students and their families to learn and experience our National sport with a professional team.
How much does it cost?
This is a free clinic that includes free giveaways.
How many sessions is there?
There will only be 2 sessions and spaces are limited. The first session is Round 3 the 7th April and the second is Round 7 the 4th May 2019.
Can my friend and I be on the same day?
Yes. Just ensure you select the same day when registering. Register early to ensure your places are secure as places are limited.
What is the free ball delivery offer?
If you register before the 19th of April, you go into the draw to win a money can't buy experience and deliver the game ball to the umpires the day you attend you your session.
Can I bring a friend from another university?
Unfortunately this offer is only available to Victoria University students.