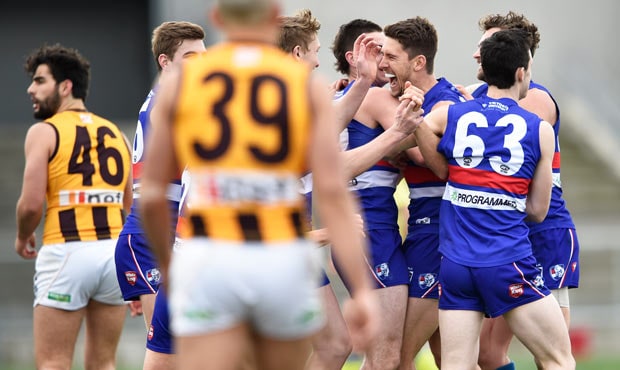 The Footscray Bulldogs are back on the winner's list after defeating Box Hill in five-point, come-from-behind win in blustery conditions on Saturday afternoon at Victoria University Whitten Oval.
It was a tough start for the 'Scray, kicking against a strong wind in the first quarter and only managing a single behind to Box Hill's five goals, but they rallied in the second term.
Hrovat helped shift the momentum kicking two goals in as many minutes and continued to dominate for the rest of the match in a best-on-ground performance. The Bulldogs kept the Hawks to only two goals and went into the main break trailing by 10-points.
The third quarter saw the Bulldogs goal-less again kicking into the wind but it was the work of the collective that limited Box Hill's attack with the wind that pleased coach Ashley Hansen.
"I thought our third quarter was critical to the victory today, to be within 5 (goals) at 3-quarter time gave us an opportunity and our ability to stay in the contest and restrict them from making it a too big a lead was really important.'
The Bulldogs' final term was nothing short of thrilling despite a slow start.
"We didn't kick our first goal until the 10-minute mark so to stay united have composure and have belief allowed us to play our style which created opportunities to kick goals from which we did – I thought the guys executed their roles pretty well today," Hansen said.
"We've still got some inconsistencies in our performance that we need to work on coming into the back end of the year but I was really pleased with the group today.


Above: Lukas Webb (pictured) collected 37 disposals in Saturday afternoon's win.
"We've had plenty of experience playing in these conditions and being in that position so our guys knew what to do and had the capacity to execute it."
AFL listed players Bailey Dale and Lukas Webb also had impactful games with Webb finishing on 37 disposals and 6 tackles and impressing the head coach with their continued strong development.
"Dale played more inside today which was really great for his development because he was playing more as a winger so to have him around the contest adds another layer to his football and his growth.
"Lukas Webb had another really good day, he was combative, hard kicked a goal, had plenty of tackles, and he's really maturing as an inside-mid, so he's finding a real level of consistency at VFL level which should and hopefully will translate to good AFL performances in the future."
Captain Jordan Russell was influential, kicking the go-ahead goal late in the final term but it was his dependable leadership that Hansen applauded.
"He's captaining the side really well at the moment. It's handy to have an extension of me out there on the field to direct and control the emotion of the group especially in close games like that, he's invaluable."
Footscray hit the road next weekend, playing away to western rivals, and reigning premiers Williamstown on Sunday 7 August at Burbank Oval, with the first bounce at 2:00pm.
Footscray Bulldogs 0.1 5.5 5.6 10.13 (73)
Box Hill Hawks 5.3 7.3 10.7 10.8 (68)

Best: Hrovat, Webb, Russell, Nash, Dale, Greenwood
Goals: Hrovat 2, Webb, Dale, Nash, Hannan, Jamieson, Wales, McLean, Russell