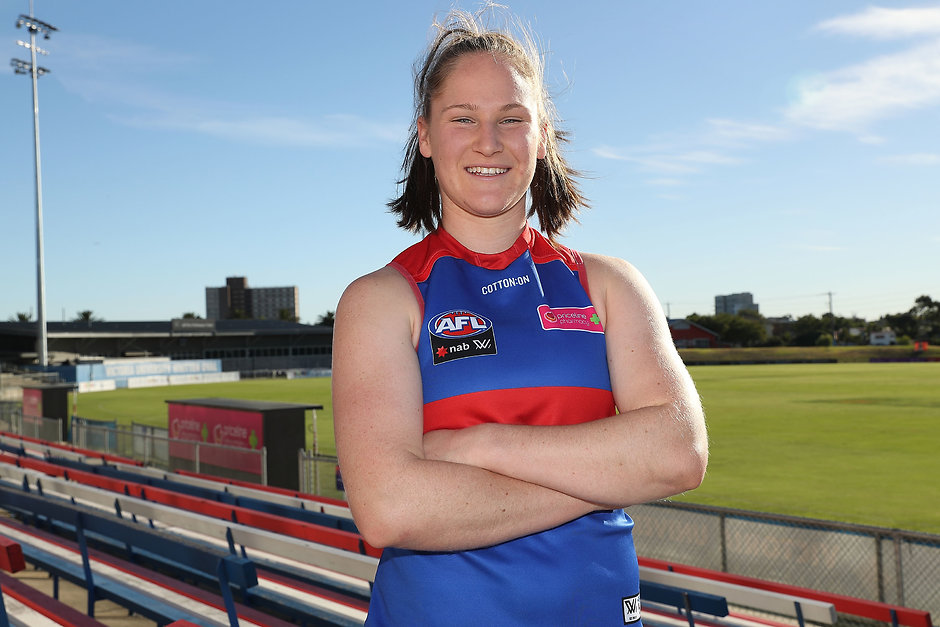 TEENAGER Aisling 'Ash' Utri dreamt about playing NAB AFL Women's football when the competition kicked off in 2017.
Now, she's emerging as a key member of the ladder-leading Western Bulldogs, fresh off a record 73-point thumping of Carlton last Friday night.
Her 18-disposal effort (and 71 per cent disposal efficiency rating) against the Blues earned her a nomination for the NAB AFLW Rising Star award.
"You dream about these things [playing AFLW]," the 19-year-old Utri said.
"I was sitting on the other side of the fence last year. To be on the field this year and be part of an historic win like that is just amazing.
"I just wanted to put on the guernsey and do it proud."
The Dogs have suffered significant injuries this season, losing young forwards Daria Bannister and Isabel Huntington (both ACL tears), as well as captain Katie Brennan (ankle).
But Utri has seen the club lift in response and praised her teammates for rising to the challenge.
"Emotionally, it's been hard," she said.
"To lose three forwards … our front half had to step up and Brooke (Lochland) showed that by kicking seven goals (against the Blues).
"We said [the injuries] could bring us down or we could all come together and give another 10 per cent each."
The speedy midfielder juggles her football commitments with a hockey scholarship at the Victorian Institute of Sport.
A member of the 2017 national junior hockey squad, Utri made a seamless transition to the AFLW, with her physicality and mental discipline valuable traits for both sports.
"I understand a lot of the concepts (in AFLW); they're very similar to hockey," she said.
"I was probably one of the stronger players in hockey over the ball. But it's just so different when someone can tackle you to the ground.
"Developing in the gym through the VIS has prepared me really well physically, so it wasn't too big a jump."
Whether she can represent both codes in the future is unclear, but Utri has aspirations to wear the green and gold playing hockey for Australia.
"I'd love to do both. But whether that happens, I just want to make sure I enjoy my sport," she said.
"I would like to represent my country. That's been a dream of mine so it doesn't just disappear.
"There will come a time where I have to make a decision which will probably be the worst day of my life."