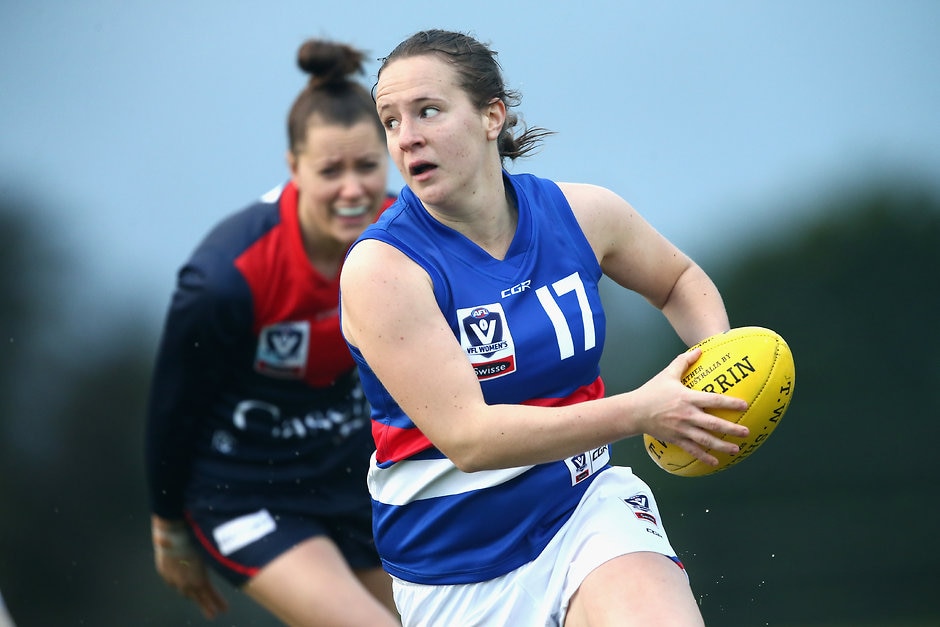 The 2019 Swisse Wellness VFL Women's fixture has been released, with the opponents for the Western Bulldogs' second VFLW season revealed.
The Bulldogs will open their campaign in Round 2 against Williamstown at Point Gellibrand, before taking on Melbourne University for the Club's first home game at Victoria University Whitten Oval in Round 3.
Two home venues will be used by the Bulldogs, playing home games at VU Whitten Oval before heading to Ballarat to take on Northern Territory Thunder at MARS Stadium during Round 12 on Saturday 27th July at 2pm.
The Western Bulldogs VFLW and Footscray Bulldogs VFL side will play six double header games in 2019, including four at Victoria University Whitten Oval in Round 3, 4, 9 and 14.
A revamped finals series will see the top six teams compete over four finals games, with the introduction of elimination finals on August 31st and September 1st.
The 2019 Western Bulldogs VFLW fixture can be viewed below.
var _eCal = _eCal || [], eCalCdnUrl = '//button.ecal.com/', eCalapiKey = 'cc1a805ffc427afd479e884a0e04d3505119de44a89d8'; (function () { var ecalWidgetJS = document.createElement('script'); ecalWidgetJS.src = eCalCdnUrl + 'js/eCal.js?_=' + new Date().getTime(); document.getElementsByTagName('head')[0].appendChild(ecalWidgetJS) })();
2019 Swisse Wellness VFLW fixture
Round One – BYE
Round Two – Saturday 18th May
Williamstown v. Western Bulldogs, 7pm, Point Gellibrand (Williamstown)
Round Three – Saturday 25th May*
Western Bulldogs v. Melbourne University, 4:30pm, VU Whitten Oval
Round Four – Sunday 2nd June*
Western Bulldogs v. Geelong Cats, 11:30am, VU Whitten Oval
Round Five – Saturday 8th June
Western Bulldogs v. Darebin Falcons, 12pm, VU Whitten Oval
Round Six – Saturday 15th June
Carlton v. Western Bulldogs, 11am, Ikon Park
Round Seven – Saturday 22nd June
Collingwood v. Western Bulldogs, 11:30am, Morwell Recreation Reserve
Round Eight – Saturday 29th June
Western Bulldogs v Hawthorn, 12pm, VU Whitten Oval
Round Nine – Saturday 6th July*
Western Bulldogs v. Richmond, 4pm, VU Whitten Oval
Round 10 – Saturday 13th July
Casey Demons v. Western Bulldogs, 11:30am, Casey Fields
Round 11 – Sunday 21st July
Southern Saints v. Western Bulldogs, 3:10pm, TBC
Round 12 – Saturday 27th July
Western Bulldogs v. NT Thunder, 2pm, MARS Stadium
Round 13 – BYE
Round 14 – Saturday 10th August*
Western Bulldogs v. Essendon, 4pm, VU Whitten Oval
Round 15 – Saturday 17th August
Richmond v. Western Bulldogs, 12:30pm, Swinburne Centre
Round 16 – Saturday 24th August
Darebin Falcons v. Western Bulldogs, 12pm, Bill Lawry Oval
2019 VFL Women's Finals Series
August 31st and September 1st – Elimination Finals
September 7th & 8th – Semi Finals
September 14th & 15th – Preliminary Finals
September 22nd – Grand Final
* = Double header with Footscray VFL