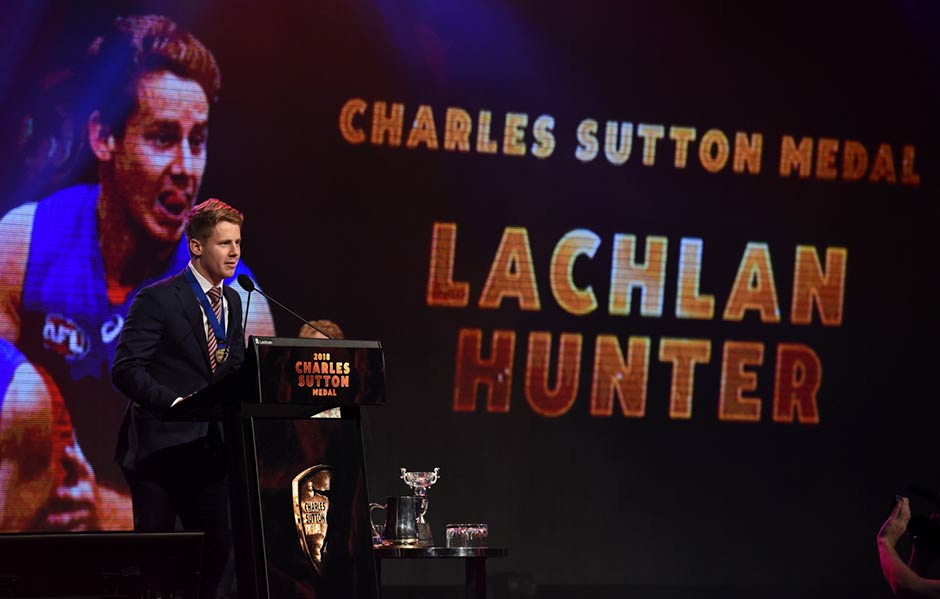 "Sometimes the best team players don't go on to win prestigious individual awards, but it's a very fine achievement when they do." - Luke Beveridge.
Those willing to do the hard work, with minimum fuss and maximum effort, are so often among the most important performers in any team environment.
Ever-reliable Bulldogs winger Lachie Hunter fits that bill.
This year's Charles Sutton Medallist took his game to new heights in 2018, and it culminated in him joining some of the most revered to have worn the red, white and blue as club champion.
He became the second Western Bulldogs father-son selection to take home the Sutton Medal in the space of five years after edging out Jackson Macrae by one vote in a thrilling best and fairest count.
He averaged 30 disposals (a career-high) from 21 games and was ranked eighth in the league for total effective disposals, third for uncontested possessions per game and 10th for kicks per game.
Hunter's Bulldogs roots run deep. His father Mark played 130 games for Footscray in the late 1980s and 90s, representing the Club with the same passion and drive as his son.
"I'm sure he's enormously proud. He loves this club as much as I do," Hunter said of his father.
The Hunter we've seen most recently is consistent, reliable and influential – but, above all, he is team-orientated.
As true leaders do, Hunter wills himself to every contest and his presence lifts those around him.
In 2018, Hunter's ability to cover the ground and help his teammates down back or further up the ground didn't go unnoticed.
When you're next at a Bulldogs game, treat yourself to a few minutes following the number seven's movements.
He'll be the one barking instructions at the stoppage, the first midfielder back to help the defence, the one starting the next scoring chain, the one delivering the ball inside 50 with pinpoint accuracy.
And more than occasionally, he puts the Sherrin through the big sticks.
"If Lachie doesn't play we know there is a considerable hole that needs to be filled," said Beveridge.
"He really did take his game to new heights. What he does for the team off the ball is quite incredible.
"His work ethic, his off-ball run, his willingness to give of himself for the other 21 on the day - for his club. His teammates love him for it."
Hunter is not only reliable, but he is also durable.
He has missed just one match since mid-2015 (he was suspended in Round 5 this year) – and became an official member of the Bulldogs' leadership group.
"It was something that I cherished and really looked forward to each week, being part of that group," Hunter said.
At just 23, Hunter's best football is still ahead of him, and we can't wait for what the future holds.