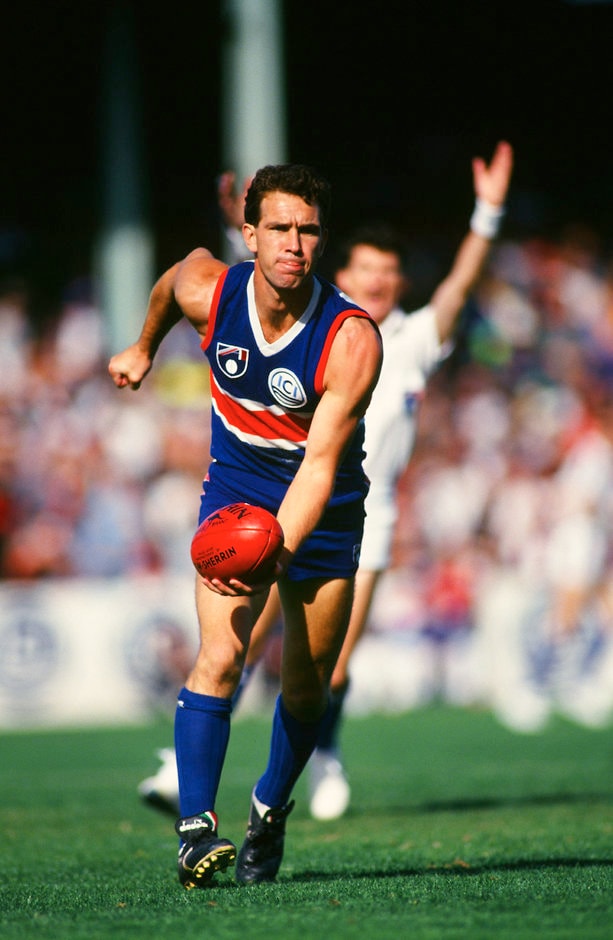 Recruited from Leongatha, Wallis was an outstanding centreman, a ball-getting machine in his early years who played a club record 113 consecutive games from debut.
With his great mate and fellow Gippsland recruit, Brian Royal, the pair helped spark a revival of the Bulldog's fortunes during the 1980s. Not blessed with an abundance of pace or a long kick, Wallis read the play well and had a happy knack of finding the ball and using it to good effect.
He had a superb 1985 season and finals series before being tagged in the Bulldogs' losing preliminary final. His form in '85 saw him represent Victoria for the first time, finish runner-up in the Best and Fairest and equal fourth in the Brownlow Medal alongside Royal and other VFL legends in Gary Ablett, Greg Williams and Tim Watson.
Under Mick Malthouse in the late '80s, Wallis was asked to play in more defensive roles and although this limited his natural creativity, he was forever the team man helping out the side in any role the coach asked. 'Wally', as he was known, adapted to any role given and his career was marked by consistency. He won the Most Consistent Award in 1985, 1992 and 1996, was third in the Best and Fairest in 1987 and 1989, fourth in 1992 and was Best Team-Man in 1989, a year in which he captained the Club.
The valuable utility again represented Victoria in 1991 and even reinvented himself as a tough half-bank flanker late in his career whereby he added a deadly hip and shoulder bump to his arsenal of tricks. Throughout it all, Wallis overcame a series of injuries but displayed remarkable resilience and durability to play 261 games over 14 seasons before bowing out on a great career in 1996.
Key stats
Played: 1983-96 (14 seasons)
Games: 261 (130 wins, 4 draws, 127 losses-Success ratio 50.57%)
Goals: 57
Captain: (1) 1989
Best & Fairest: Nil R/U: 1985 3rd: 1987, 89 4th: 1992 Top 4: 4 times
Brownlow career votes: 43
Finals: 8 (including losing Prelims 1985, 1992)
Victorian Rep Games: 3 (1985, 91)

Class of '18 | View The Biographies of the latest crop Footscray-Western Bulldogs Hall of Fame inductees.

Hall of Fame
Don Ross
Peter Box
Bernie Quinlan
Steve Wallis
David Smorgon

Legends
Chris Grant
Norm Ware
Allan Hopkins