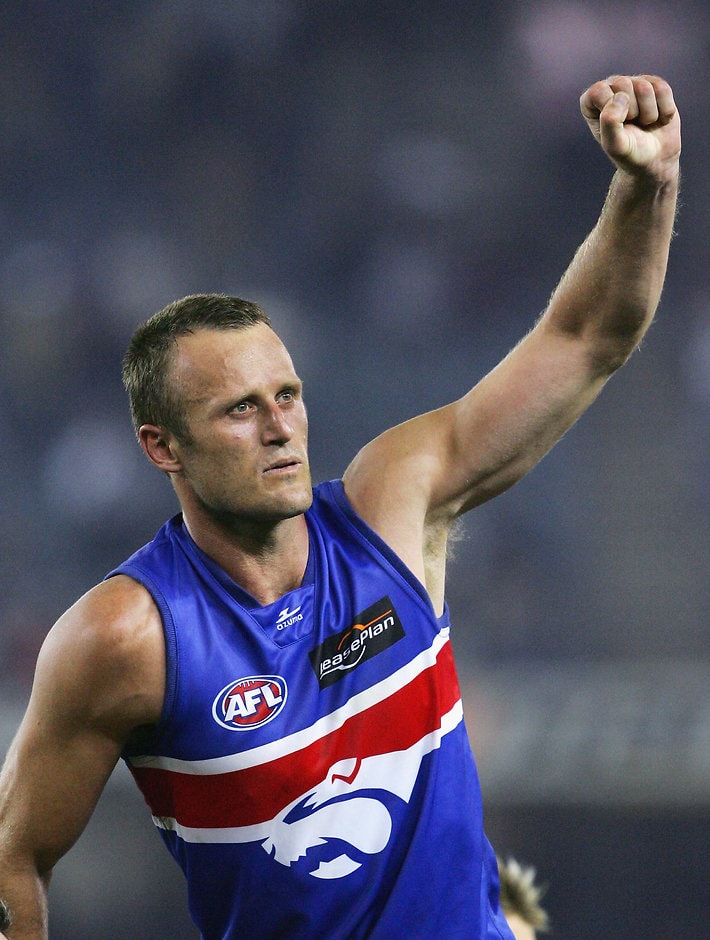 Drafted from Daylesford at the bargain pick of 105 in the 1988 national draft, Chris Grant went on to forge an incredible career after arriving at the Club during the tumultuous events of the 1989 Fightback.
Grant was a star with the Bulldogs from his debut as a skinny 17-year-old kid in 1990, eventually becoming the youngest player in League history to kick 50 goals in a season.
As his body developed he moved out to centre-half-forward and by 1994 he was in peak form winning the best and fairest and leading the Club goal-kicking with 74 majors. Grant showed his versatility when he moved to centre half-back in 1996 and fell just one vote short of winning the Brownlow Medal.
Inheriting the Club's famous No. 3 guernsey, Grant was a superb mark with good ground level ball control for a big man and sublime foot passing skills, but it was events off the field at the end of season 1996 that endeared him to supporters most.
With the Bulldogs at rock bottom and the future of the club in doubt, Grant refused a large financial offer from Port Adelaide, a selfless act that many in the football world applauded him for. A letter from a young supporter begging Grant to stay, with a 20 cent coin attached as incentive, became a symbol of Grant's loyalty.
Such was his presence and class on the field, Grant accumulated many fine achievements throughout his career.
He played a then Club record 341 games after overcoming a knee injury that saw him miss all but one game of the 2003 season; he kicked 554 goals in 18 seasons between 1990-2007; captained the Club between 2001-04 and polled 112 Brownlow votes, the same as Club legend and fellow No. 3, Ted Whitten.
Grant was also a fine finals performer, was twice leading goal-kicker (1990, 1994) a dual best and fairest winner (1994, 1996 joint), was runner-up three times (1997, 1998, 1999) and came third once (2001). He was also a regular Victorian representative from 1993 until 1999 and was All-Australian in three consecutive years (1997, 1998, 1999).
Grant was named at half-forward in the Footscray-Western Bulldogs Team of the Century and since his retirement was an automatic induction in both the Footscray-Western Bulldogs and AFL Hall of Fames.
He currently serves as the Western Bulldogs Director of Football.
Key stats
Played: 1990-2007 (18 seasons)
Games: 341 (173 wins, 6 draws, 162 losses-Success ratio 51.61%)
Goals: 554
Captain: (4) 2001-04
Best & Fairest: (2) 1994, =1996 R/U: (3) 1997, 1998, 1999 3rd: (1) 2001 Top 3: 6 times
Leading Club Goalkicker: (2) 1990 (51 goals), 1994 (71 goals)
Brownlow career votes: 112 (polled in 12 seasons-polled highest votes in 1997 (27) when ineligible, lost by one vote in 1996)
Finals: 15 (including losing Prelims 1992, 1997 & 1998)
Victorian Rep Games: 5 (1993-94, 96-97, 99)
All-Australian: (3) 1997, 1998, 1999
Inducted into the AFL Hall of Fame: 2012
Foots/WB Team of Century: Half forward
Foots/WB Hall of Fame: 2010

Class of '18 | View The Biographies of the latest crop Footscray-Western Bulldogs Hall of Fame inductees.

Hall of Fame
Don Ross
Peter Box
Bernie Quinlan
Steve Wallis
David Smorgon

Legends
Chris Grant
Norm Ware
Allan Hopkins