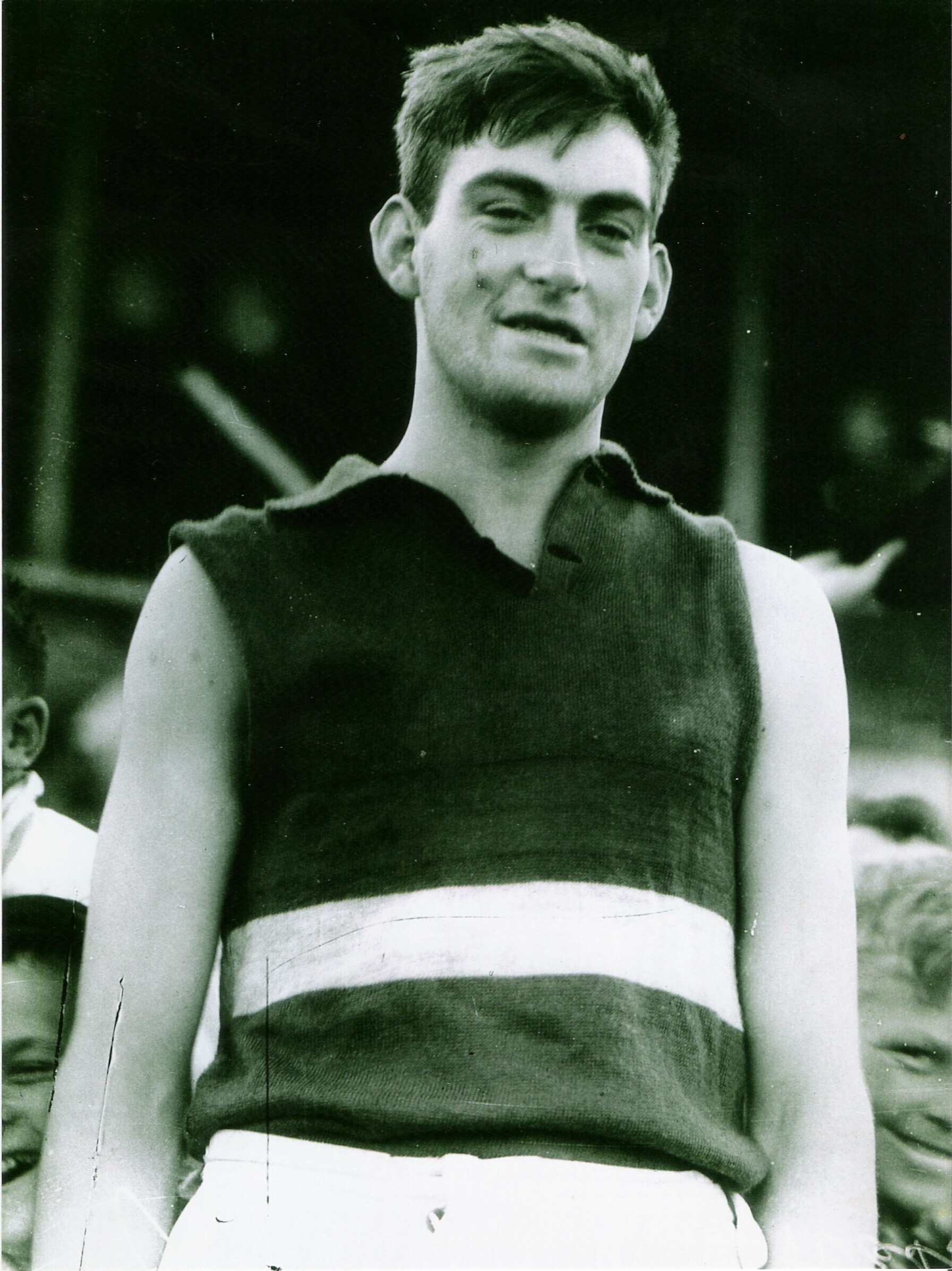 Norm Ware was one of the most outstanding ruckman of his era.
Quick, agile and high marking, Ware had remarkable consistency showcased by his then record haul of five best and fairest awards. He also finished in the top ten in the Brownlow Medal seven times during his career, polling a career total of 130 votes and winning the Brownlow at age 30 while captain-coach in 1941, the last year before the award was suspended for the war (1942-45). Ware famously found out he had won the medal when he was in army camp at Royal Park, Melbourne.
Ware's form in 1938 had him as favourite for the Brownlow but he did not win it, although he had the satisfaction of leading Footscray's rucks into the club's first ever finals appearance. Ware was an automatic selection for the Victorian team and played most years during the 1930s until games were suspended. He then captained the club in 1940-42 and coached the side with reasonable success in 1941-42, taking them to a semi-final showdown with South Melbourne in 1942.
Originally from Sale, Ware was exceptionally mobile for his height and was a great mark around the ground. Resting forward, he had a penchant for kicking goals as evidenced by his 52 goals in 1942 when he won the club goal-kicking. War service interrupted the latter years of his career, but he still managed to produce outstanding football. In his only game of 1945, he kicked six goals, and in his 200th and last game in the 1946 first semi-final, he kicked four goals to end his career with 220 goals, a fine achievement for a ruckman.
Norm Ware was named in the Footscray-Western Bulldogs Team of the Century, had a bay of the Whitten stand named after him and was inducted into the AFL Hall of Fame.
Key Stats
Played: 1932-42, 1944-46 (14 seasons)
Games: 200 (87 wins, 1 draw, 112 losses-Success ratio 43.75%)
Goals: 220
Captain/Coach: (2) 1941-42 (P:33 W:20 L:13 success 60.61%) also Captain: (1) 1940
Best & Fairest: (5) 1934, 1937, 1938, 1940, =1941 R/U: 1942 (other years unknown)
Leading Club Goalkicker: (1) 1942 (51 goals)
Brownlow Medal: 1941
Brownlow career votes: 130 (polled in 10 seasons [8 x double figures]-highest 23)
Finals: 3 (losing semi-finals)
Victorian Rep Games: 11 (1933,34,36,37,38,39) Rep games not played 1940,42-44
All-Australian: Not awarded during his playing career
Other honours: Bay of the Whitten stand named after him
AFL Hall of Fame: 2001
Foots/WB Team of Century: Interchange
WB Hall of Fame: 2010

Class of '18 | View The Biographies of the latest crop Footscray-Western Bulldogs Hall of Fame inductees.

Hall of Fame
Don Ross
Peter Box
Bernie Quinlan
Steve Wallis
David Smorgon

Legends
Chris Grant
Norm Ware
Allan Hopkins