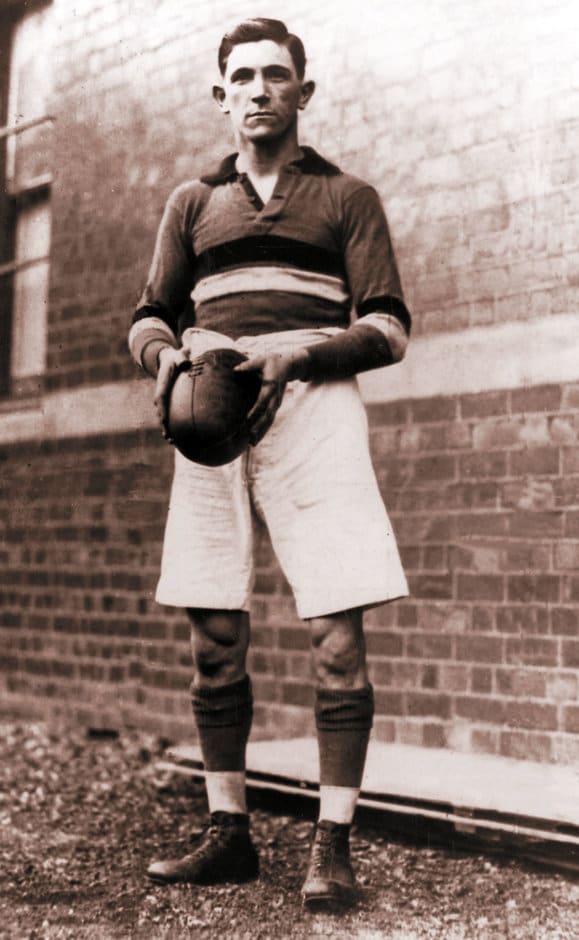 Allan Hopkins was Footscray's first superstar, a brilliant half-forward and centreman who had an amazing record in the Brownlow Medal.
Hopkins finished second in the Medal in 1929 and 1931, lost on a countback in 1930 and was fourth in 1934. In recognition of his outstanding record, the VFL awarded him an illuminated address, the first and only time in history. When the countback system was abolished in 1989, Hopkins was retrospectively awarded a Brownlow Medal for the 1930 season, a year in which he was captain-coach.
As the son of a Western Oval groundsman and born and bred in Footscray, Hopkins burst onto the scene with seven goals in his first game as a 19-year-old in 1923, when Footscray was a VFA powerhouse. Hopkins wasn't chosen in the grand final team that year but played in a premiership in 1924, Footscray's last year in the VFA, before playing in the team that defeated VFL Premiers, Essendon, for the Championship of Victoria.
When Footscray entered the VFL competition in 1925, Hopkins form flourished and he became a genuine superstar. Hopkins kicked nine goals in one game in 1925 and led the goal-kicking in the Club's first two seasons in the VFL before a move into the midfield turned him into one of the game's greatest players.
He was a regular Victorian representative from 1925 until 1933 and starred for the Vics in the centre in several interstate carnivals. Hopkins was nicknamed 'Banana Legs' due to his bandy gait, but he proved deceptively quick and elusive. He was clever, could blind turn in an instant and was a fine mark for his size and beautiful kick.
In the late 1930s Collingwood legend, Gordon Coventry, ranked Hopkins the fifth best player he had seen and regarded him as the greatest stab pass the game had seen. A player of immense skill and creativity, Hopkins could kick with either foot and land them with pin-point accuracy. Hopkins left an indelible mark on the game with a list of achievements befitting the status of a club Legend.
Hopkins was a premiership player (1924), a Brownlow Medallist (1930), a best and fairest winner (1931) and was duly inducted into the Footscray-Western Bulldogs and AFL Hall of Fame in their inaugural years. He was also named as Footscray's centreman in the Team of the Century and was honoured with a Bay of the Whitten Stand being named after him.
In all, Hopkins played 151 games for 205 goals in the VFL and a further 19 games for 37 goals in the VFA for his beloved Bulldogs.
Key stats
Played: VFA 1923-24, 1925-34 (12 seasons all up)
Games: (170) - VFA 19, VFL 151 (63 wins, 1 draw, 87 losses-Success ratio 42.05%)
Goals: (242) VFA 37, VFL 205
Premierships: 1924 (VFA) (and championship game v Ess (L) in 1924)
Captain/Coach: 1930 (P:18 W:4 L:14 - team finished 11th) Captain : part 1926, part 1929
Best & Fairest: (1) 1931 R/U: (unknown)
Leading Club Goalkicker: (2) 1925 (40 goals), =1926 (42 goals)
Brownlow Medal: 1930 (equal)
Brownlow career votes: 62* (Played during the years 1925-30 when only one Brownlow vote was awarded per game)
Finals: Nil
Victorian Rep Games: 17+ (1925, 26, 28, 29, 30, 33)
All-Australian: Not awarded during his playing career
Other honours: Bay of Whitten Stand named after him
AFL Hall of Fame: 1996
Foots/WB Team of Century: Centre

Class of '18 | View The Biographies of the latest crop Footscray-Western Bulldogs Hall of Fame inductees.

Hall of Fame
Don Ross
Peter Box
Bernie Quinlan
Steve Wallis
David Smorgon

Legends
Chris Grant
Norm Ware
Allan Hopkins